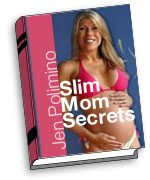 Slim Mom Secrets
This is the best Book for Expecting Mom, New Mom or After Birth Mom.
In this book you will learn how you can have an easier pregnancy, a healthier baby, and how you can get back into your pre-pregnancy shape (or better), quickly and easily.
In addition you will find information about Prevent Some Of Pregnancy's Most Unpleasant Side Effects Like Acne, Varicose Veins, Saggy Breasts, Stretch Marks, Excess Fat, And Cellulite.
Read This Book and Make Sure You're Doing All You Can to Have a Happy, Healthy Baby!

Click Here For More Info...

Write Book review

Read buyers review (0 Reviews)
Author:
Jennifer Polimino
$29.95
Bonuses!